Lining Machine in Induction Sealing
    Product manufacturers have found an increasing need for the humble lining machine in their businesses. With the ever-increasing demand for different goods, keeping the shelf-life of a product and ensuring that it is leak-proof can be the next step for the provision of these products to an international market. 
    Lining machines are used to insert cap liners to the mouths of containers. These cap liners serve as a barrier against oxygen and moisture fluctuations in the environment in order to keep the freshness of the product inside. They also prevent leaks from occurring. Cap liners are also increasingly being used for tamper evidence as a means to protect the public from any outside disruption to the product. 
    There is an increasing number of industries which make use of cap liners. One of the foremost users of cap liners and their corresponding liner machines is the pharmaceutical industry. With the public's trust on the line, these companies spare no expense when it comes to tamper-evident sealing. Not only must the product's integrity be protected, but there must also be proper tamper-proofing found in these products' containers, so as to ensure the safety of the consumers. The product seals are so important that the Food and Drug Administration (FDA) has issued guidelines for the procurement and proper use of these tamper-evident seals. 
    Food and beverage companies are also ardent users of cap lining machines and their seals. The functions of cap liners are imperative for end-consumer satisfaction with the product because any form of disruption with the seal will make the consumer lose trust in the product, leading to losses for the producer. Therefore, ensuring proper sealing through the use of good lining machines is necessary. 
   Cosmetics industries also make use of this technology. Through the use of cap liners, these industries can protect their products and have them shipped internationally without worrying about any leakages or accidents along the way. 
In the same vein, chemicals used in agriculture can now be stored and shipped without worries. Some types of cap liners are able to cope with the abrasive and corrosive properties of the chemicals, making them ideal for use in sealing these chemicals in. There are also certain solvents which can now be contained safely, adding more value to these cap liners.
The demand for the use of cap liners has increased the need for lining machines capable of catering to thousands of cap liner applications on a daily to weekly basis. Without these lining machines, it would be impossible to achieve proper induction sealing. Therefore, using the right cap liner insertion machine for your products is of utmost significance for your business. 
Lining Machines for Different Cap Liners
    Cap liners can be categorized depending on their usage, the induction material liner they are made of and even how they come into your production line. For lining machine purposes, they are categorized according to the form they come in: as pre-cut or roll form.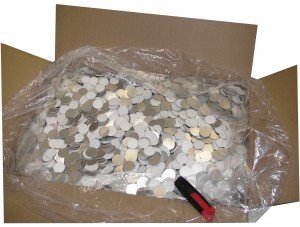 Pre-cut cap liners come in tubes. They have already been slit and cut at a different facility, thereby making them ready to use once they arrive in your production line. 
Roll form liners come in still needing to be slit and cut to your specifications. This
process requires additional machines and may prolong production. 
    For the smallest production lines, pre-cut cap liners may be more advantageous because these productions are most likely still in the beginning stages and may not have the adequate budget for additional cutting and slitting machines. However, the pre-cut type is not limited to such businesses because some of the largest production lines may also utilize this type of cap liner, if only because it cuts down on time needed for production. 
    For medium to large production lines, businesses may benefit from roll form cap liners because they have adequate budget and space for the additional liner machine needed, while also having enough time to continue in-house production of the necessary lining components. 
Benefel Pty Ltd. and Adeneli Packaging
Our teams at Benefel Pty Ltd. and Adeneli Packaging can help you with your lining machine needs. Our experts are on standby to take your calls and chats. Whatever product you may have, we have the perfect liner material for you. Product consultation is free and we are happy to develop partnerships with our customers by supplying consumable products that work well with packaging machinery.